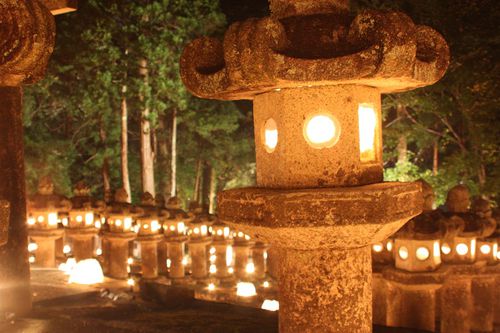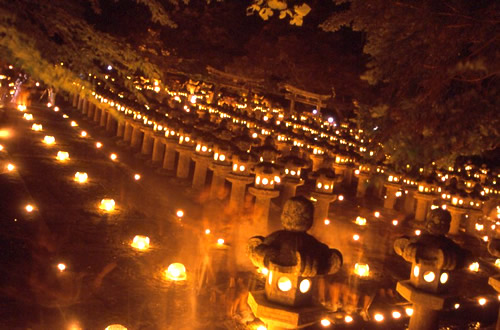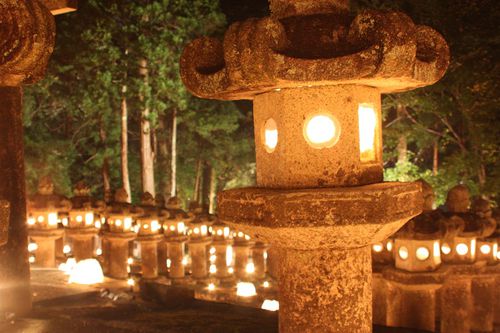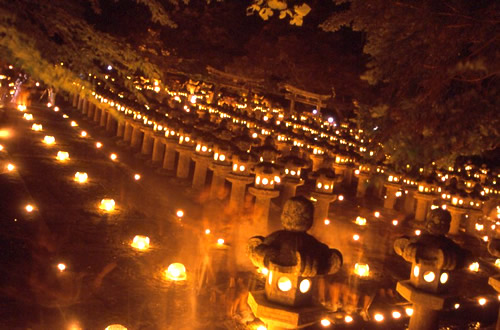 The fantastic scenery made by candlelight
According to Japanese Buddhist tradition, the spirits of one's ancestors are honored during Obon in summer.

Mōri Terumoto built Hagi Castle in 1604, and for around 260 years Hagi thrived as a castle town. Every year in August, a festival called the Hagi Lantern Festival is held to honor several generations of the Mōri lords, who were the lords of the Hagi Domain.
The graves of the Mōri lords are separated into two temples: Daishōin Temple and Tōkōji Temple.

At Daishōin Temple rests the first Mōri lord and the next Mōri lords of even-numbered generations from the 2nd to the 12th generation, along with their wives. Facing the tombs are approximately 600 stone lanterns, donated by members of the Hagi clan. At Tōkōji Temple, the odd-numbered generations of the Mōri lords from the 3rd to the 11th generation and their wives lay to rest, and approximately 500 stone lanterns stand before these graves.

Over a course of 2 days, the Hagi Lantern Festival occurs at each temple, at Daishōin Temple on the 13th of August, and at Tōkōji Temple on the 15th.
At night, all the stone lanterns are lit up by candlelight, one by one. Surrounded by the peaceful temple grounds, the gentle candlelight makes for a magical atmosphere.
Basic info
Date
Every year on August 13th・15th
Place
Daishoin Temple(4132 Tsubaki,Hagi city) at Aug 13th / Tokoji Temple(1647 Chintō, Hagi City) at Aug 15th
Contact info.
Hagi Tourism Association
Phone 0838-25-1750
Website
https://www.hagishi.com/mantoue/