The main train station in Hagi is Higashi Hagi station. Bus services to Shin-Yamaguchi station and sightseeing spots in the area (Akiyoshi-Dai, Tsuwano etc) depart from outside the station. Alternatively, all bus services pass through Hagi Bus Center which is more centrally located. The express buses from Tokyo and Osaka also arrive at Hagi Bus Center.
The Hagi City Circular Hop-on Bus Service is a convenient way to get around the city. The service operates on two routes around Hagi at 45 minute intervals. Hagi is very flat, so renting a bicycle is another great way to get around.
---
Hagi City Circular Hop-on Bus Service
(Hagi Jyunkan Ma-ru Bus 萩循環まぁーるバス)
Hagi City Circular Hop-on Bus is a loop bus service that connects the stations with major tourist attractions in the city. Two convenient bus routes with buses running every 45 minutes.  One ride costs 100 yen regardless of how far you travel.
Fare

100yen

*children under 1yr old ride free
*Up to three children aged 1-6 ride at three with one accompanying adult

Interval

Every 45 minutes(the West course and the East course)

ONE DAY PASS

500yen
First departure 7:00~ Last departure 17:30
(All bus routes start and finish at Hagi City Hall)
Car rental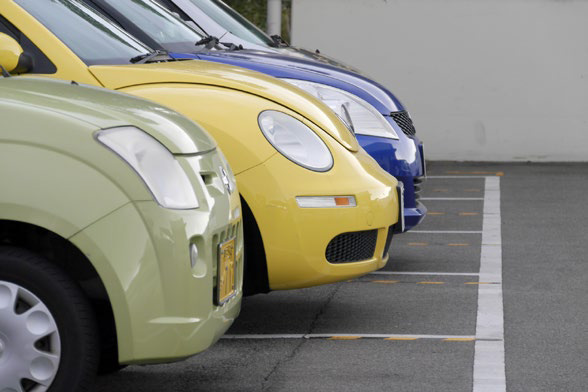 We recommend you rent a car to sightseeing in Hagi City, because the city is small and have well-equipped parking lots in tourist spots. In the center of the city, you enjoy the scenery of the historical cityscape. In the suburbs, you enjoy beautiful pastoral landscape and seaside drives.
Times Car Rental Hagi Branch TEL 0838-21-1101
Toyota Rental and Lease Yamaguchi (Ltd.) Hagi Branch TEL 0838-24-0100
100 yen Rent-a-Car Hagi Branch TEL 0838-25-5111
Taxi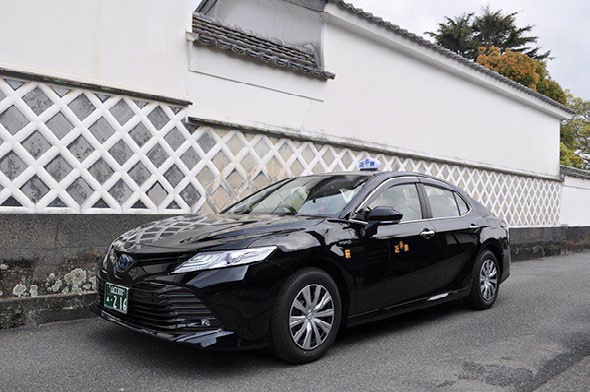 In Hagi city, cruising taxis are rare, so you can't catch them on the road. You need to call the taxi company.
Hagi Kintetsu Taxi

TEL 0838-22-0924

Hagi Dai-ichi Transport

TEL 0838-25-5050

Shin Nippon Kanko Transport

 TEL 0838-22-0163
Bicycle Rental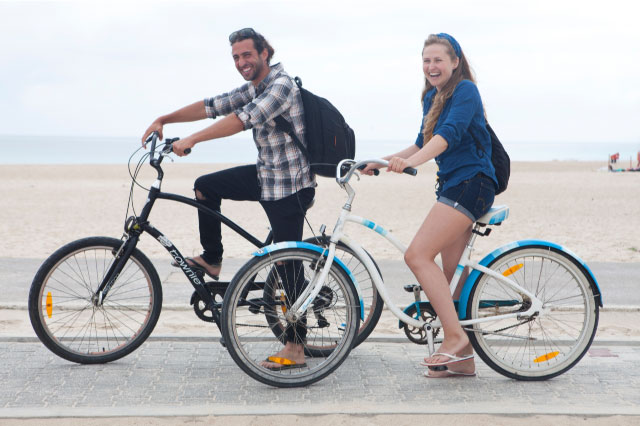 There are many attractions in Hagi, so it is recommended to go around by bicycle. Rental bicycles are available near Higashi Hagi station, Hagi Bus Center and around the Castle Town area.
crick here for details
Rickshaw 人力車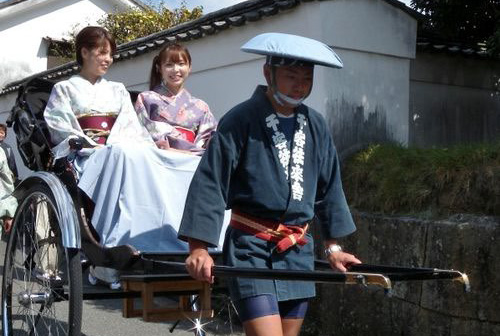 You can ride a rickshaw at the castle town. If you want to feel the atmosphere of Hagi and go a special sightseeing at castle town or samurai residences, we recommend ride a rickshaw.
kurumayado

TEL 0838-26-6474

35 minutes course

5,500 yen/1 person, 8,000 yen/2 persons

60 minutes course

9,500 yen/1 person, 14,000 yen/2 persons
Walk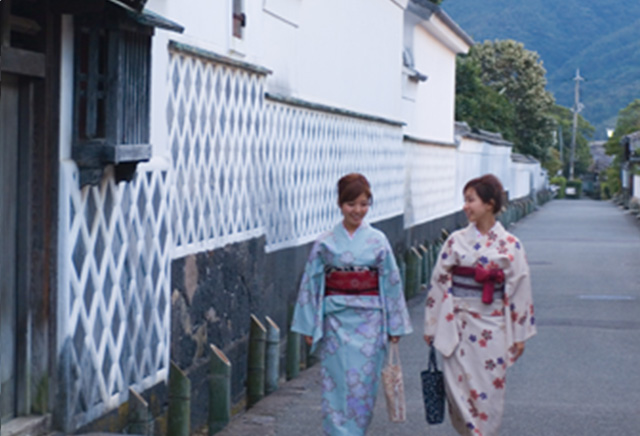 You can feel the atmosphere of a historical cityscape by walking to the old castle town from Hagi Castle Ruins. A very Hagi's scenery like historical castle ruins, old earthen walls and summer oranges is spread out before you. If you walk a little further, you can see old temples and shrines. Hagi city is a delta and flat, so it is easy to walk.