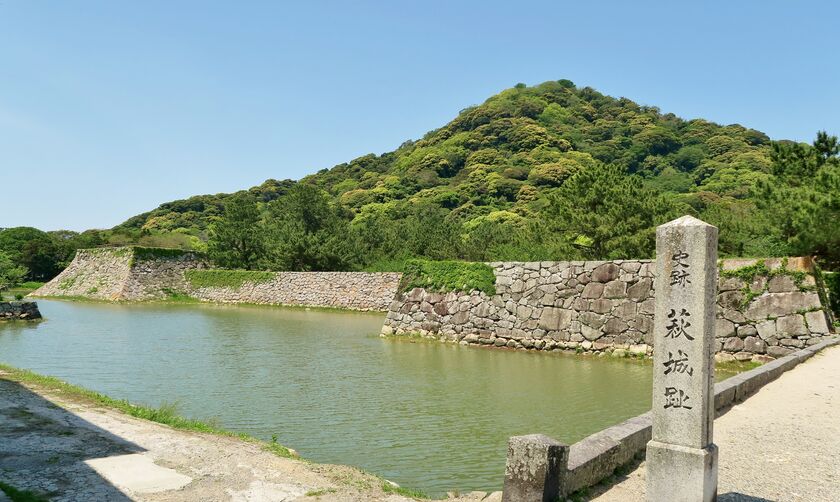 Site of Hagi Domain Castle built by the Mōri family in the Edo period
Hagi Castle was constructed at the foot of Mount Shizukiyama by Mōri Terumoto in 1604. Its location characterizes it as a hirayamajō, or a castle constructed on a hill within a plane. It was composed of a main keep, an inner and outer bailey, and a tsumemaru inner fort, located at the top of Shizukiyama, almost independent of the other elements.
In 1874, all wooden structures, including the main keep, were dismantled by the government.

Today, only the stone walls and a portion of the moat testify to the location of the castle. In 1967, this site and it surrounding areas was listed on the National Register of Historical Sites, and was registered as one of the UNESCO World Heritage Sites known as the "Sites of Japan's Meiji Industrial Revolution" in 2015.

Shizukiyama Shrine, dedicated to the Mōri Lords, was constructed in the former location of the main keep. Some 200,000㎡ were transformed into Shizuki Park. In spring more than 500 trees of the local protected species, Yoshino Cherry, found nowhere but here, come into bloom.
Basic info
Phone
0838-25-1826
Address
1-1 Horiuchi, Hagi
Open
8am-6:30pm April-October; 8:30am-4:30pm November-February.
Open daily
Holiday
No Holidays
Parking
Shizuki Daiichi Chushajyo (Free Parking)
Website
Price
Adults: ¥220
Children (elementary school/junior high school students): ¥100
Access
5 minute walk from Hagi Castle Ruins・Shizuki Park Entrance Stop
on the Eastern Route with Hagi Junkan Ma-ru Bus